Four simple reasons to have your website
created on WordPress
Content Management + User-friendly interface
You can certainly ask me to make any changes on your website but one of the advantages to WordPress is your ability to login into your website and make instant changes yourself. This is what makes content management sites the top choice for small businesses that post changes on their blog, upgrade their business services, add employees and introduce new products. WordPress now powers 30 percent of the web, and is the most powerful website platform on the market, beating Squarespace and Wix. For every one site that Wix or Squarespace adds to the internet, WordPress adds 6! Many people have come to me after trying to build their own sites, only to find that having a template is not a guarantee to creating a beautiful user-friendly and well functioning site.

Flexibility & Function

What is the function of your website and how does it reflect the services of your business? As you and your services grow and change, your website can reflect this without having to start over or reinvent the wheel. You may start out with a website that may simply describe your business and services. Growing your business may mean the addition of a blog, new employees, adding a small shop or a page that integrates your videos with content. With WordPress you can scale your site and turn it into your personal blog for an ecommerce powerhouse. This is the beauty of a site built on WordPress. The styles, themes and functions are all flexible and easy to convert.

Google loves WordPress

Google's massive search engine is the most popular in the world, receiving more than two trillion search queries per year. When Google updates its requirements, WordPress has already anticipated their move and automatically updates. Whether you are a shop, offering a service or a sophisticated blog, WordPress caters to the mobile consumer, with formats that are responsive to any device. Google Analytics is free and includes advanced features to complement WordPress.com stats. Some of the top WordPress themes have SEO functionality built-in for easy use on all your pages and post. With a secured website you can also offer your clients the convenience of filling out forms and surveys online and store them digitally. WordPress helps drive traffic to your website with great Google ranking, SEO, tracking, measuring, social media and more.

One designer to maintain the integrity of your site
Whether this is your first website or you are ready to upgrade your current site, I can help simplify this process and guide you through the steps needed to create a successful website. I design and build websites in WordPress, one of the most successful content management systems in the world. My expertise as a designer is at the heart of what I do, but I also offer other services that insure the integrity of your site: fine tuning content, modify photographs, illustrations and logo design. As a creative art director I manage the updates of all the components that keep your site high functioning and well visited. I especially like working with individual practitioners and small businesses that offer unique services. I believe that the passion for your work can be communicated through your website and connect you to those who need your services.
A website must be scalable, secure against hacking, easy to edit and manage, indexable by search engines, function as a major asset to your business, and last but not least, nice to look at and move through with ease.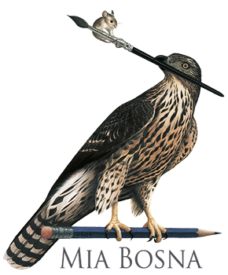 ILLUSTRATION • DESIGN • WEB
Let's talk about about creating your unique website, logo or promotional project:
610.933.4545
©MiaBosna • All rights reserved • Website Designer